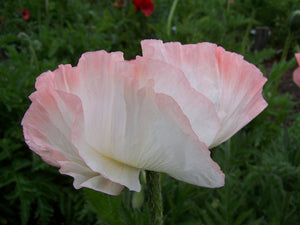 Shasta is a lovely member of Sandy Duncan's "Super Poppy" series, the result of 30 years of advanced interspecific breeding. Shasta has an edge of cotton-candy pink, shading to a lime-white base, with contrasting black center. As other members of this group, the plants are exceedingly floriferous, with a strong tendency to rebloom in the Fall. Foliage is glossier and longer-lasting than conventional poppies. Bloom time is longer, in general. Superior hardiness and sunlight tolerance in this group. Uncommon outside England.
Botanical name: Papaver orientale 'Shasta'
Form: Perennial 
Hardiness Zone: 3-8
Flower Color: Pink/Lime-white 
Foliage Type: Leaves and stems are rough and hairy. Leaves are deeply lobed and dissected.
Bloom time: May-June
Height: 24 inches
Spread: 30 inches
Light requirements: Full sun
Plant depth: two inches of soil over root crown 

See "Growing Tips" for more detailed instructions

Tips and Growing Instructions
Visit our How-To Cultivation Library for more growing tips.
Oriental poppies are rarely planted in containers and perform much better in the garden. For best results grow in a well-drained soil, as plants will not tolerate wet soils in winter, which can rot the fleshy tap roots and crowns. They're happy in alkaline, acid or neutral soil. Plant in full sun (at least 8 hours) for optimal blooms.

Oriental poppies hold their large flowers on strong hairy stems. However, they may need the help of a plant support to keep them upright. A poppy flower will last for about 10 days but plants will have a second flush of flowers if they're cut back. Allow oriental poppies to set seed and the plant will not have enough energy to produce more flowers.



Once poppy flowers have gone over the foliage also dies back. The foliage will have a second lease of life in August.  Plant poppies alongside low-growing perennials that will fill the gap in July when the foliage dies back. Plants should be cut right back to ground level in autumn.




Shipping
Sorry, we do not ship outside the U.S. or to Hawaii due to agricultural restrictions.
We guarantee safe arrival of healthy bulbs, that varieties will be true-to-name, and will grow if planted as instructed, subject to the limitations described in our Shipping and Returns Policy.
We begin shipping our bulbs in mid-February through Spring. Despite what you may have heard, Spring planting of bulbs is not a bad thing, and in fact, there are many advantages to planting in Spring. Visit our Spring Planting page to learn more. Upon arriving, your bulbs and most of your perennials may show signs of growth such as green leaves and sprouts - this is okay and transportation during this time should not harm the plants.
All bulbs and perennials should be planted in your garden as soon as possible to ensure the best success. If you must delay planting, open the bags to permit air circulation and place them out of direct sunlight in a cool, well-ventilated room. Do not place the bulbs where they can freeze. If you have the space, storing the bulbs in the refrigerator is another excellent way to "hold them" prior to planting. If you choose this method of storing your bulbs, be sure not to store fruit with them, as this is detrimental to bulbs.
Plant outdoors when the ground is no longer frozen and the conditions have improved for your zone.
If you have any questions or concerns our customer service team would be glad to help you at any time. Please use our contact form, or email us at support@lilypadbulbs.com.
Customer Reviews
Poor quality
I bought 6 Super "Shasta" poppy bulbs. There was only one that I would consider even resembled a bulb. Only one poppy came up and 1 lily that I didn't order. I will not be ordering from you again.
04/02/2020
Denise A.

United States
I can't wait until these bloom.
I received the bulb in good shape. They are planted and I can't wait to see these bloom in my flower beds. They look so pretty. Thank you.