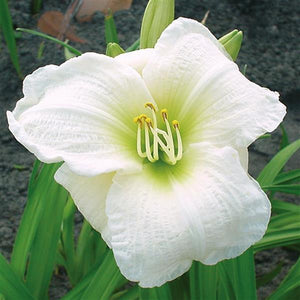 Gentle Shepherd Daylily features distinct white trumpet-shaped flowers with chartreuse throats. Large 5-inch blooms that are lightly ruffled make great cut flowers. 2-3 fan divisions
Botanical name: Hemerocallis 'Gentle Shepherd'
Form: Perennial
Hardiness Zone: 2-9
Flower Color: White, green throat
Foliage Type: Long, flat grass-shaped blades that grow in clumps from the crown of the plant, at the soil line.
Bloom time: June-July
Height: 28 inches
Spread: Clumps quickly spread to fill in large areas, so give plenty of space. Clumps can be divided into new plants.
Light Requirements: Full sun
Plant depth: one-two inches of soil over the root crown.

See "Growing Tips" for more detailed instructions

Tips and Growing Instructions
Visit our How-To Cultivation Library for more growing tips.
Daylily plants do best in sites that receive direct sunlight for 6 hours a day. Incorporate good quantities of organic matter to enhance the soil's aeration, drainage and fertility. Daylilies are exceptional in their diversity and the myriad ways they can be utilized in the garden. They make stunning border plants, are excellent for mass plantings along walkways or fences, as well as for landscape plantings in combination with compact shrubs or ornamental grasses.

Spring offers the ideal time for planting daylilies, although gardeners in the South also have the option of planting late in fall. Till the soil to a depth of 1 foot and dig planting holes that are a little larger than the root mass, at least 18 to 24 inches apart from each other. Make sure you spread the roots out as you sow, and that the crown doesn't end up any deeper than an inch under the soil surface. Pat the ground lightly to firm up the surface after refill and water thoroughly. Daylilies require regular irrigation for optimum growth. Mulching isn't a necessity, but is useful in areas susceptible to weeds and excessive heat.