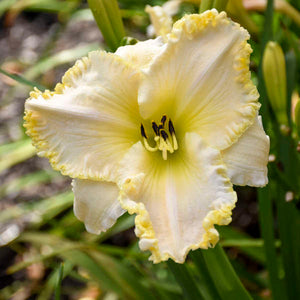 Elegant, lavishly ruffled edge, Creamy-white with lemon yellow edge and throat, blending softly onto petal Green heart. 5-inch blossoms. Well-branched scapes with up to 40 flowers on mature specimens. Tetraploid. Fragrant, Strong
Botanical name: Hemerocallis 'Marque Moon'
Form: Perennial
Hardiness Zone:
Flower Color: White/yellow edge
Foliage Type: Long, flat grass-shaped blades that grow in clumps from the crown of the plant, at the soil line.
Bloom time: June/July
Height: 24 inches
Spread: Clumps quickly spread to fill in large areas, so give plenty of space. Clumps can be divided into new plants.
Light Requirements: Full sun
Plant depth: one inch of soil over the root crown.

See "Growing Tips" for more detailed instructions

Tips and Growing Instructions
Visit our How-To Cultivation Library for more growing tips.
Daylily plants do best in sites that receive direct sunlight for 6 hours a day. Incorporate good quantities of organic matter to enhance the soil's aeration, drainage and fertility. Daylilies are exceptional in their diversity and the myriad ways they can be utilized in the garden. They make stunning border plants, are excellent for mass plantings along walkways or fences, as well as for landscape plantings in combination with compact shrubs or ornamental grasses.

Spring offers the ideal time for planting daylilies, although gardeners in the South also have the option of planting late in fall. Till the soil to a depth of 1 foot and dig planting holes that are a little larger than the root mass, at least 18 to 24 inches apart from each other. Make sure you spread the roots out as you sow, and that the crown doesn't end up any deeper than an inch under the soil surface. Pat the ground lightly to firm up the surface after refill and water thoroughly. Daylilies require regular irrigation for optimum growth. Mulching isn't a necessity, but is useful in areas susceptible to weeds and excessive heat.


Shipping
Sorry, we do not ship outside the U.S. or to Hawaii due to agricultural restrictions.
We guarantee safe arrival of healthy bulbs, that varieties will be true-to-name, and will grow if planted as instructed, subject to the limitations described in our Shipping and Returns Policy.
We begin shipping our bulbs in mid-February through Spring. Despite what you may have heard, Spring planting of bulbs is not a bad thing, and in fact, there are many advantages to planting in Spring. Visit our Spring Planting page to learn more. Upon arriving, your bulbs and most of your perennials may show signs of growth such as green leaves and sprouts - this is okay and transportation during this time should not harm the plants.
All bulbs and perennials should be planted in your garden as soon as possible to ensure the best success. If you must delay planting, open the bags to permit air circulation and place them out of direct sunlight in a cool, well-ventilated room. Do not place the bulbs where they can freeze. If you have the space, storing the bulbs in the refrigerator is another excellent way to "hold them" prior to planting. If you choose this method of storing your bulbs, be sure not to store fruit with them, as this is detrimental to bulbs.
Plant outdoors when the ground is no longer frozen and the conditions have improved for your zone.
If you have any questions or concerns our customer service team would be glad to help you at any time. Please use our contact form, email us at support@lilypadbulbs.com, or call us at 541-671-3196.
Customer Reviews
04/04/2020
Jeff M.
United States
Happy with the order
Hi there...I'll be happy to review after they bloom. Plants were healthy and happy and are now in pots temporarily. They are coming along quite nicely. I would order again from The Lily Pad Bulb Farm!